Exhibition Girls for hire at Olympia London
As a business, you will no doubt take advantage of trade shows and events. Perfect for getting your brand in front of your audience, these events generate important leads as well as establishing your brand in a competitive marketplace.
Located in the district of Royal Borough of Kensington and Chelsea, Olympia London is a venue that holds many events and trade shows from fashion trade shows to toy fairs and more, If you are attending a trade show in Olympia, Excel or Earls Court, you want your brand to get the most out of it.
Over the years, the venues have hosted shows from Ideal Home Show to the Good Food Show. As well as hosting a diverse range of exhibitions it has played host to a world of musical concerts from Iron Maiden to Kylie.
Exhibition staff, London
Many other businesses invest in professional, exhibition girls in London, why not yours?
Promotional and exhibition staff can do so much for your brand at a trade show, delivering a range of services and tasks with the energy, commitment and professionalism that customers have come to expect from your brand.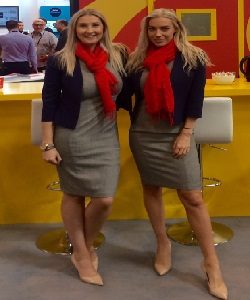 As well as Olympia, we can provide staff for events at Excel and Earls Court. Our exhibition girls are trained and experienced in offering a range of services, including;
• Registering and welcoming delegates and VIPs
• Scanning badges and security passes
• Hospitality including serving refreshments
• Action as sales staff expert in creating sales and leads
• Handing out company information, such as brochures or goody bags
• Presentation skills for demonstrations and events
• Collecting business cards and important contact information
• Generating a buzz around your stand, attracting more people
• Cloakroom services
• Meet and greet services for when the personal touch will make a difference
• And more!
Highlighting Your Brand
No doubt an objective of attending events and trade shows is for your brand to become further established as sector leading in your industry. So it is no wonder that companies and organisations like yours turn to Exhibition Girls for professional, trained promotional staff to ensure your logo and brand voice are prominent during the event at Olympia London.
Our promotional and exhibition girls can wear your branded promotional wear or uniform, or they can portray your brand in any way you that you want, from themed costumes to professional business attire.
Trained, Professional, Experienced staff for hire at Olympia London
It is a big step, trusting a promotional agency with your brand at an important event such as a trade show.
But, as an established company, we have the experience and the know-how to deliver a professional service, every time. All our staff are trained in creating the right opportunities for a business at events.
Not every customer needs or wants the same package which is why we tailor make solutions that fit your needs, the event and your budget.
Fully briefed on your requirements, our experienced exhibition girls in London are the best. For more information, complete the contact us form for a no-obligation quote or cal us on 0844 800 0071.